Available positions
How would you like to have 3-day weekends?
Come and work in a factory in the process of automation. Here, we rise to challenges!
Spontaneous application
No positions fit your expertise? We are always looking for talented and motivated individuals. We want to hear from you!
*All fields are mandatory
Why work with us?
Reasons for working at Victoriaville & Co.?
Working with us offers many advantages, both in the offices and in the plant.
Here is a list of the top 5 reasons that make us an employer of choice.
Victoriaville & Co.
415


employees
111


years of history
70


years in the
funeral industry
3


values
1


mission
Values
Three essential values make up the foundation of Victoriaville & Co.'s philosophy: respect, integrity and responsibility. Candidates who are interested in joining our staff need to fit with the core values of the company. All our employees strive to live these values every day and are focused on creating the right social climate.
These values are a feature of our company that positions us favourably on the market. They also enable us to set ourselves apart from the competition. They are applied on a daily basis by all market players, whether they are our colleagues, our collaborators or our loyal clientele.
Our signature, "ingrained in tribute", not only reflects the importance we place on each of our actions when designing, manufacturing or finishing our products, but also our values of respect, integrity and responsibility. As a matter of fact, our signature is the heart and soul of our company.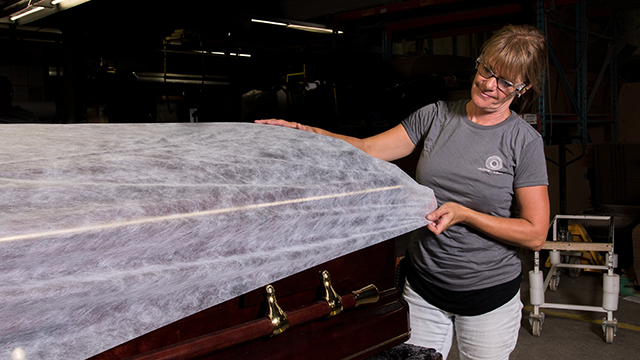 A Lively Region
Victoriaville, also known as the cradle of sustainable development, is a vibrant region offering all the advantages of big city convenience without the hassles. Here is proof:
Victoriaville...
we love the city in which we live and work !
We are also involved in supporting community-minded organizations, such as