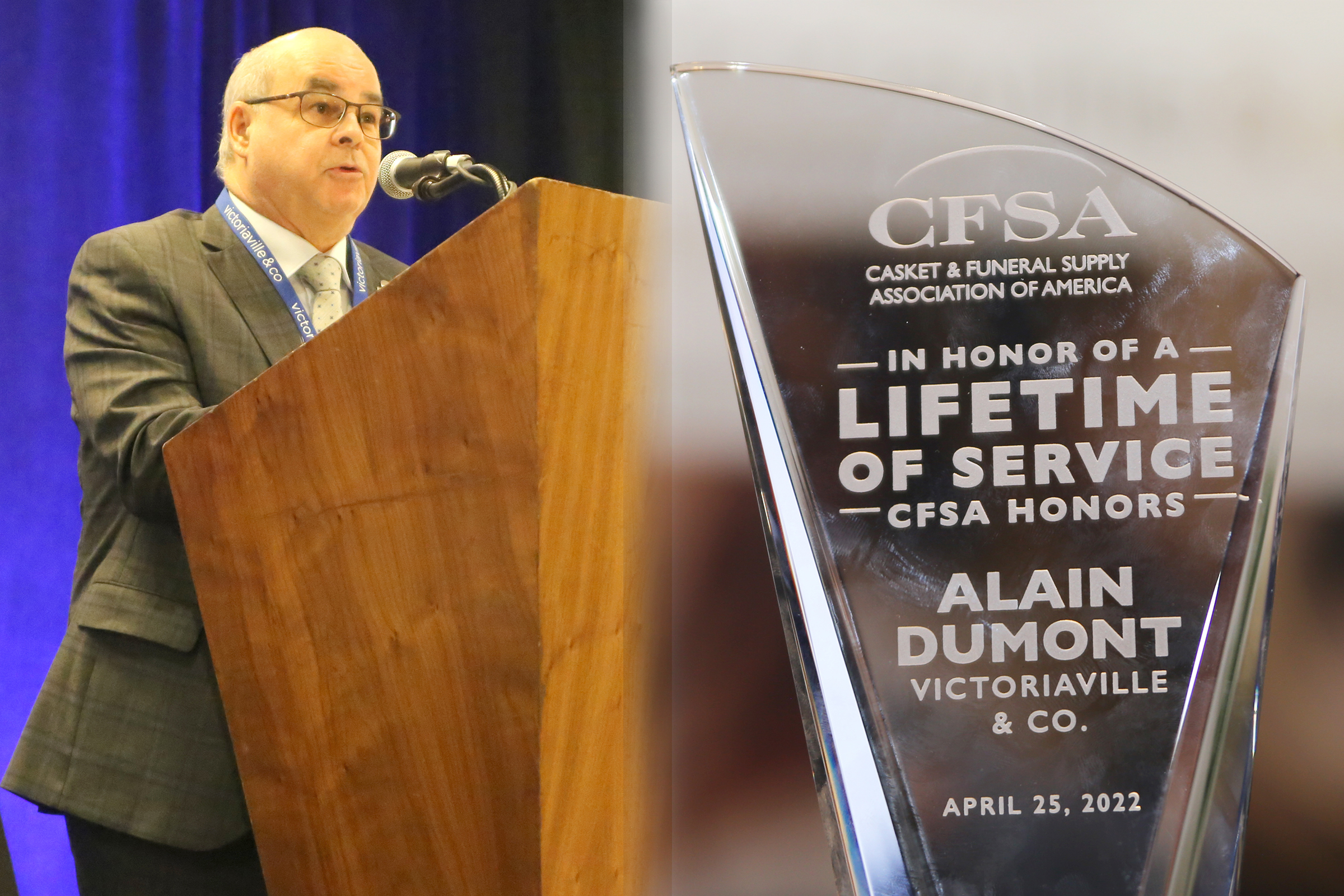 Indianapolis - During the CFSA (Casket and Funeral Supply Association of America) Annual Convention, Victoriaville & Co.'s President, Alain Dumont, received the Award of Excellence for his lifetime contribution to the improvement of the funeral profession in the United States.

The Casket & Funeral Supply Association of America, Inc. (CFSA), whose members provide goods and services to death care professionals, shall promote the well-being of funeral supply companies. The Association will promote communication and fellowship within the industry while providing services necessary to assist its members and to enhance their business so that the public may continue to receive the full benefit of memorialization. This is the first time since its inception that the Association has presented this prestigious award to a Canadian citizen.

"Reviewing the list of recipients over the past twenty years, I receive this prestigious honor with great humility and want to share it with all my colleagues who do an extraordinary job, but also with my wife and partner Michelle, as well as my father Claude and my son Charles-Olivier." declares Alain Dumont.

"I would like to thank Mrs. Jeanette Hiemstra, President of the CFSA, as well as all the members of the Board of Directors, Mr. Greg Beavers, head of the nominations committee and the entire CFSA team for this recognition and for the organization of this beautiful evening" adds Alain Dumont

-30-

Source:
Michelle Bouffard | Communication Director, Victoriaville & Co. | [email protected] |
819-752-3388 # 1105

ABOUT CFSA
Founded in 1913 as the Casket Manufacturers' Association of America, the Casket & Funeral Supply Association of America is proud to represent the interests of member suppliers to licensed funeral homes. CFSA has long been established as the trade association for the funeral supply industry, with members manufacturing or distributing virtually every type of product used by funeral homes. The objective is to provide useful information and perspectives on the funeral industry and the funeral supply industry to support manufacturers and suppliers of funeral goods and/or services. The Association also provides its members with proprietary information via its sales statistics program.

ABOUT VICTORIAVILLE & CO.
Founded in 1907 and committed exclusively to the funeral profession since 1948, Victoriaville & Co. is a fourth- generation family business that employs hundreds of people in Canada, the United States, Australia and the United Kingdom. Victoriaville & Co. has become the third largest manufacturer of hardwood caskets and one of the most important distributors of funeral and commemorative products in North America.
< Back to news